What are the best beaches in Pieria region? That depends on what kind of beach adventure you want to experience. Pieria is the region of currents, glamour, and natural beauty.
Despite welcoming a never-ending collection of visitors each year, Pieria region has its traditional and authentic charm and all the luxuriousness that today characterizes the area.
Its multiple, stunning beaches continue to take your breath away. Pieria contains 16 stunning beaches with crystal-clear and shallow water which are suitable for every activity you want. 
So, keep your eyes peeled on this ultimate guide to the best beaches in Pieria and the most exclusive ones that allow you to revel and frolic on the sun-kissed shores and crystal-clear waters, dancing to the house beats of the hottest DJs. Also, You can expect parties, tasty food, and bars along the coastline at these beaches.
1. Panteleimon Beach, district of Panteleimonas, pieria region, Greece
Panteleimon Beach is a Long, wide beach with a Perfect climate, Crystal clear waters with pleasant beach bars, and well-known clubs on Platamonas Beach.
It is an excellent location with grounds for camping cars directly on the Beach beside various restaurants, taverns, beachfront cafes, and supermarkets.
Also, the good facilities and the accommodating staff make it perfect for you no matter what type of traveler you are, whether a solo traveler, couple, family with children, or friends.
However, there is a lack of direct transportation. So, if you didn't rent a car, you will need to take a train to Leptokarya, then a bus or a taxi to Panteleimon Beach.
You can combine your trip with hiking to the mountain Olympus, walking in the historic Litochoro, visiting the Palaios Panteleimonas village, and exploring nearby waterfalls.
2. Neoi Poroi Beach, Pieria, Greece
Nei Pori Beach is located near the picturesque village of Palaioi Poroi which is just 5 km north of the village of Neoi Poroi. which is a wonderful place with a beautiful coastline. It is awarded every year with the Blue Flag for its clean water.
Ideally, you can enjoy sitting on the Beach and swimming in the warm sea. However, you can also visit the shops in which there are many. This beach is ideal for families and is very conveniently located, so easy access is straightforward.
3. Olympic Beach, Olympiaki Akti, Katerini, Pieria, Greece.
Olympic Beach, Olympiaki Akti, and it is also known as Katerinoskala. It is a coastal village that belongs to the Olympus Riviera in the Pieria region. This Beach is extended to several kilometers long and is located a few kilometers away from Katerini. 
Watch Now: A walking tour in Olympic Beach, Pieria.
Olympiaki Akti is a well-organized beachfront village surrounded by many hotels, accommodations, campsites, beach bars, restaurants, taverns, cafes, and gift shops.
Besides, It is an ideal ground point to explore Mount Olympus, the beaches of Katerini or Paralia Katarini and Vergina, Phillip II, and the Macedon royal tombs.
Here, you can spend a beautiful and memorable day with your family from sunshine to sunset, thanks to the clean toilets, changing cabins, sunbeds, and water sports.
4. Leptokarya Beach, Pieria, Greece.
Leptokarya Beach is located in the Municipality of Dion – Olympos near the old Leptokarya Town and situated at the foothills of Mount Olympus. Leptokarya Beach is a sandy beach with a little bit of pebbles garnish on its surface.
This 3 km long beach is a well-organized beach with a very good infrastructure and a wide variety of hotels, cafes, and bars.
Also, you can ride horses on the chore or just lay on one of the sunbeds under an umbrella and enjoy the view of the beach in front and Mount Olympus behind.
5. Platamonas Beach, Pieria region, Greece.
Platamonas Beach is considered one of the best beaches in Pieria region and northern Greece. This pebble beach is located at the foothills of Mount Olympus. While sitting on the beach you can spot Platamonas Castle up there.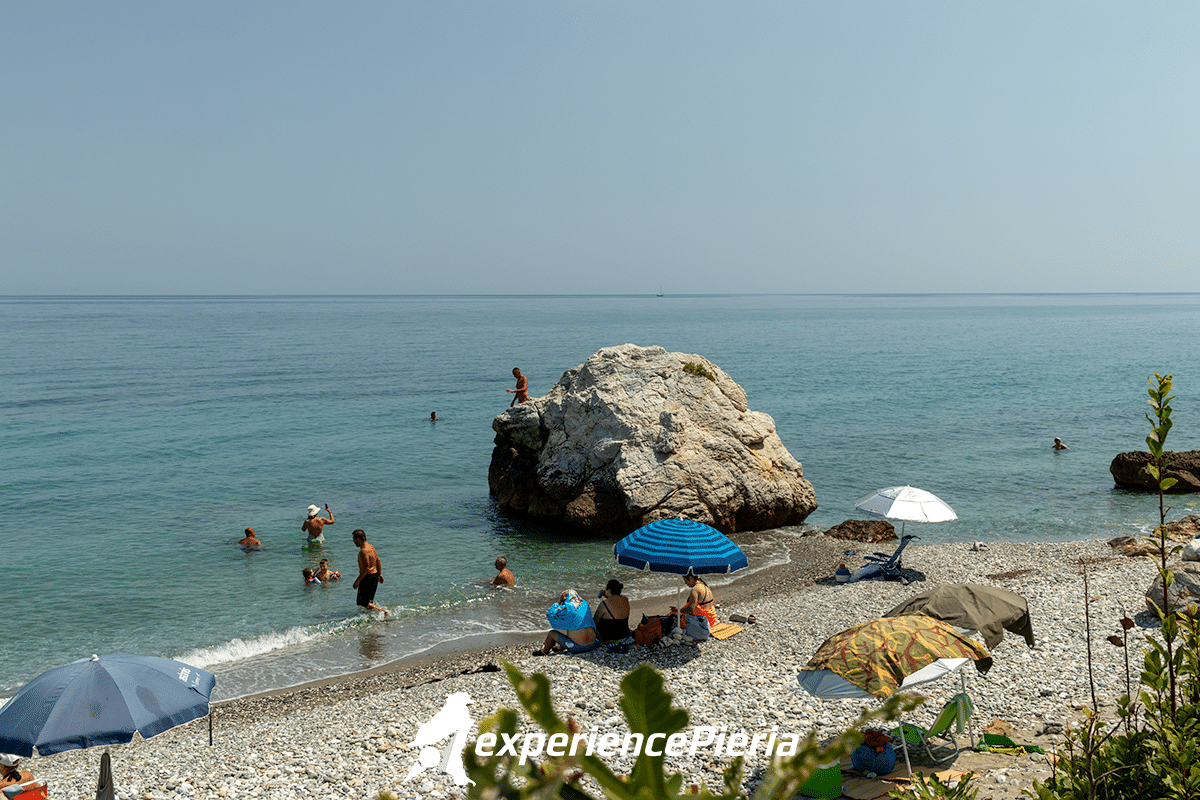 This Beach is your ideal gateway if you want to combine history, nature, and relaxation. Also, Platamonas Beach is considered a multi-activity beach that is surrounded by lots of hotels, taverns, bars, and numerous shops of all kinds that can fit your budget.