Hike Mount Olympus is number one on numerous tourists' bucket lists while visiting Greece? Those visitors come to enjoy the best day hikes at Mount Olympus extraordinary nature.
Want to find out how to enjoy an easy day hike at Mount Olympus? Keep reading, and we will take a look at Mount Olympus different hike trails for best day hikes to combine essence with fascination and make sure to n ever miss a moment in the God's mountain…
What is Mount Olympus in Greek mythology?
Mount Olympus is the highest mountain in Greece, which reaches a height of 2,918 meters. It is considered one of the most prominent mountains in the world.
It was associated with Greek mythology. Greeks believed that their gods lived on Mount Olympus, which was guarded by the goddesses of the seasons and the natural portions of time  Horae.
In ancient Greek religion and mythology, the 12 Olympians are the major deities of the Greek pantheon, commonly considered to be Zeus, Hera, Poseidon, Demeter, Athena, Apollo, Artemis, Ares, Hephaestus, Aphrodite, Hermes, and either Hestia or Dionysus .
They were called Olympians because, according to tradition, they resided on Mount Olympus .

Is Mount Olympus Worth visiting?
Mount Olympus Formed from sedimentary rock and existed more than 200 million years ago in a shallow sea. After many years it was covered by glaciers and changed the landscape. Then, as the ice melted, the streams were formed, washing away the rocks and land and giving new shapes to the surrounding terrain.
These geological circumstances are observable today. Thanks to its heavily forested green ravines carved by waterfalls and caves.
A visit to the Geological Museum of Mount Olympus in Leptokarya will provide you with detailed information about the geological structure of the mountain.
At Mount Olympus, you can enjoy a little bit of everything. As you can go for easy day hikes trips, climb peaks, rest in the caves and enjoy one of the most remarkable adventures of your life.
Day Hikes at Mount Olympus Trails
When you want to enjoy a day of hiking in Greece, you already know that going to Mount Olympus is a must. So, how do you enjoy a day hike on Mount Olympus ? There is a very effective way to go.
Just keep reading…
Ideally, when you are a first-time hiker on  Mount Olympus,  there are many comfortable trails with varying degrees of difficulty to follow. Those hike-trekking trails will take you into the best gorges with scenic views.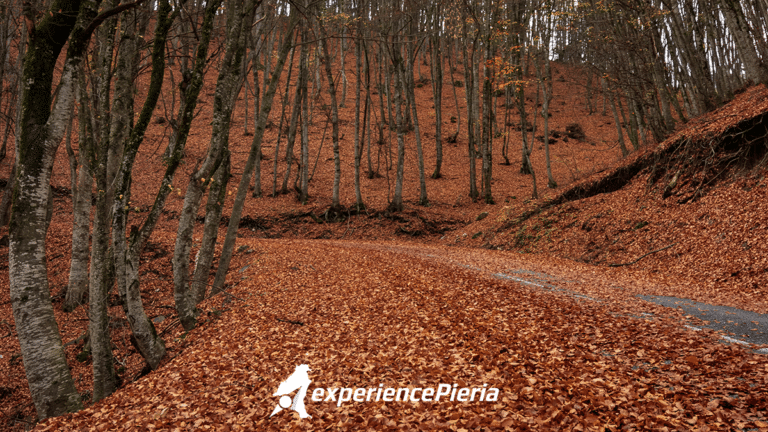 1- Hike Mount Olympus from Prionia to Litochoro
Mount Olympus  lies at the edge between the regions of  Macedonia  and  Thessaly. 
So, the best way to reach it is from Litochoro , which is located at the foot of Mount Olympus .
Litochoro  is a city from which numerous tours and trips up the mountain. Also, it is the site of picturesque conventional architecture.
So, you can enjoy various stops while taking your way up from Litochoro to Prionia .
Finally, while going northwest, you go down towards the E4 route connecting Litochoro with Prionia , having walked for about Four-Five hours among the stunning view.
As we said above, the best starting point for a trip to Mount Olympus is Litochoro . There are many hotels and information sites to start the adventure.
2-Hike Mount O

lympus from Prionia- Agio Spilaio- Agios Dionysios Monastery
This easy 9 Km trekking trail is great to try if this is your first time hiking at Mount Olympus, and all you need is to be laid back and enjoy more features.

It is about 6 Km that takes 2 hours of hiking. It leaves  Prionia  and passes through  Agio Spilaio , then arrives at the  Agios Dionysios Monastery  which dates back to the year 1542.
After leaving  Prionia  you will head down to the  E4 path  towards Litochoro and follow the map. You will pass through the extraordinary waterfalls and enjoy a picturesque scene of the mountain while hiking through a wooden bridge.
Additionally, you can walk through the path that leads to  Enipeas waterfall , then you can head back to the E4 trail to cross  Agio Spilaio .
Ultimately, from here you can reach  Agios Dionysios Monastery t hen you can go back to Litochoro from the same trail of the E4.
3-Prionia-Spilios Agapitos Refuge
If you intend to reach Mount Olympus's summit one day, this 4.5 Km trail is the right one to start practicing. The path restarts at the Spilios Agapitos Refuge, one of the Mount Olympus refugees.
From there, you can enjoy 3 hours of hiking in the middle of the forest between pine, beech, and fir trees until you reach the refuge.
Do you want to book a guide?
BOOK YOUR GUIDE NOW AND ENJOY A 10% DISCOUNT
What is the best time for day hikes at Mount Olympus?
The best time to hike Mount Olympus is during the fall months (September, October, and November), as you can enjoy the colorful trees.
Nevertheless, if you want to have day-hike trips without the intention to climb to the summit, you can enjoy hiking all year round.
Important things to Know Before Hiking Mount Olympus
You will not have a signal while hiking on Mount Olympus.

You must wear comfortable hiking shoes.

Bring Water and Snacks.

Bring an extra layer, as it can be slightly cold there.

Ask at the Greek Mountaineering Club, based in Litochoro, where you can get maps and tips.

 You can book a professional mountain guide to help along the path.
Book Your best day hikes at Mount Olympus
With  ExperiencePieria , all your needs for your vacation are in one spot!
Book directly from the websites and enjoy great discounts only for our users.